Drive your own dogteam:

1700 sek/pers

2 in 1, one person sits in the sled while the other one drives and during the trip you change place:

1370 sek/pers

Sit and relax, enjoy the ride as a passenger on the sled:

1040 sek/pers
All our tours are between 15 and 20 km long, depending on the weather conditions. After the tour we offer "Swedish fika"7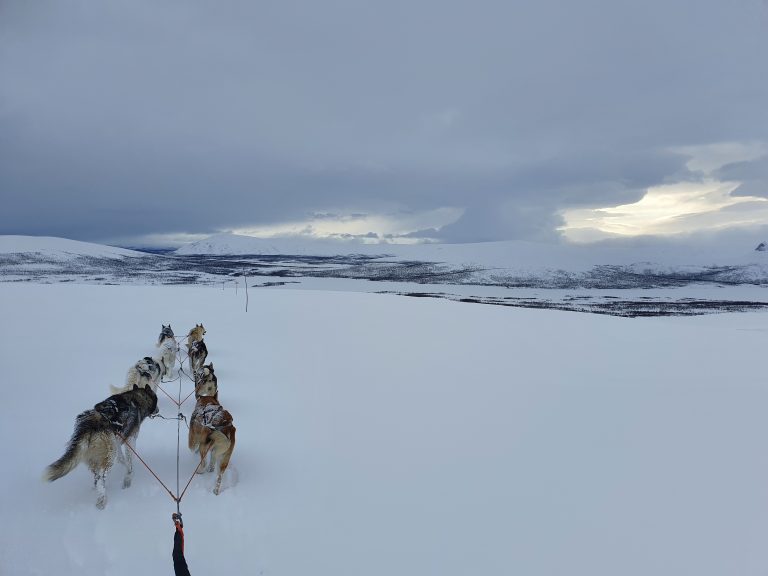 Day tour, 3 hour guided tour on snowshoes:

990 sek/pers

Evening tour, 2 hour guided tour with chance of seeing northern lights:

750 sek/pers
Swedish fika included
Day tour, 3 hour guided tour on wooden forest-skis (which you can use with your own winter shoes):

990 sek/pers

Evening tour, 2 hour guided tour with chance of seeing northern lights: 750 sek/pers

Swedish fika included
Have you ever fished in a frozen lake? Try to catch perch or pike during a 3-hour ice fishing experience:

600 sek/pers
Swedish fika included
Combine snowshoe walking or forest skiing with ice fishing and enjoy a warm lunch by the campfire:

1250 sek/pers
Duration ca. 4 hours.
A taste of winter in Swedish Lapland
We take you out on a week of winter activities to explore and experience the arctic winter wonders in Swedish Lapland. Try snowshoe walking, forest skiing, ice fishing, dogsledding and possibly watch Aurora Borealis – the Northern Lights.
A winter adventure week with four nights out in the wilderness and lots of winter activities. Dogsledding, forest skiing, snowshoeing, ice fishing and living in basic wilderness cabins.