Avvakko dundret is with his 755m the highest point in our area. With nice weather it is possible to see the Kebnekaise massive from the top. During the hike we tell you all you want to know about the fauna and flora in Lapland. Depending on the time of the year, you can pick blueberries or mushrooms on the way.
Start: 10:00 at the parking place at the end of the road in Avvakko.
End: around 16:00
Price: 1500 sek/pers, lunch incl.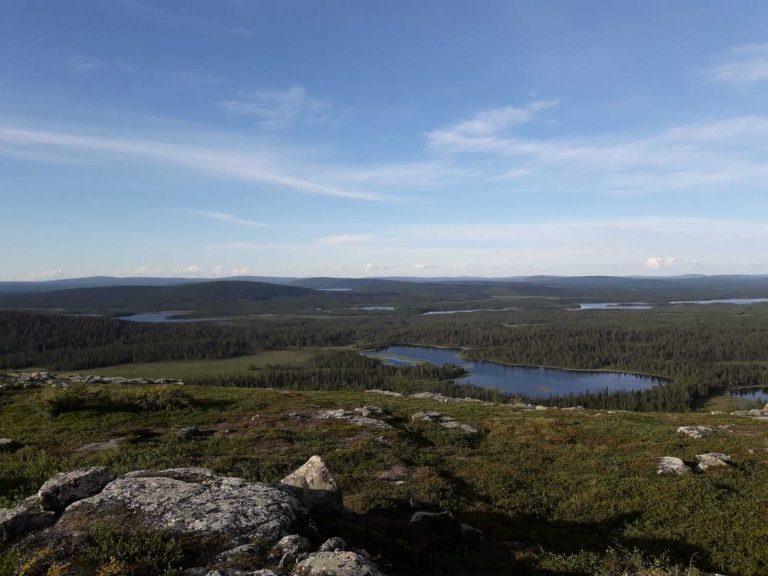 Close to our base in Moskojärvi, on the lake Kivijärvi, we teach you how to put out a fishing net. While the net is laying in the water, we try our luck with the fishing rod. We fish for perch and pike. In the afternoon we take up the net. Now it's time to take out the fishes and clean them. You can take some fish home for dinner.
Start: 10:00 from our base in Moskojärvi. End: 16:00
Price: 1500 sek/pers, lunch incl.
Paddling trip on Kivijärvi
Enjoy the silence and the beautiful scenery while you paddle a canoe or kayak on one of our biggest lakes.
Start: 10:00 from our base in Moskojärvi. End: 16:00
Price: 1300 sek/pers, lunch incl.
Combine paddling, fishing and a night in a tent on our camping trip. With canoes/kayaks we paddle over Kivijärvi to our camp spot. On the way there you can try your luck in fishing. Dinner, we cook on the campfire, if you had a successful fishing day, there is fish on the menu.

Start: 13:00 from our base in Moskojärvi. End: the next day around 13:00
Price: 2900 sek/pers Included: all camping and fishing gear, dinner and breakfast
A week long program for families who like to explore outdoorlife in Swedish Lapland. Hiking, paddling, fishing, camping and much more in the land of the Midnight Sun for children from 6 years of age.
A week long paddling adventure for everyone who has paddled and camped before and wants to try out packrafting by paddling Swedish Laplands untamed river Kalix with its varied character.
Packrafts are fantastic tools to explore unknown waters, they are very light, easy to paddle and if you need to portage, they are packed easily, so that you are back on the water in no time.
Dates: 
13.08 – 20.08
20.08 – 27.08


Hiking " Kungsleden" from Abisko to Nikkaluokta
The "Kungsleden" is Swedens best known long distance hiking trail. Over 400 km in total length and divided into five sections, it connects Abisko in the far North with Hemavan in the South. With our tour starting in Abisko National park and ending in Nikkaluokta, we cover the first of  five sections with 108 km length.
The entire trail is well marked and apart from some steep climbs and decents, fairly easy to hike. Daily distances reach from 12 to 21 km. The biggest challenges on this trip will be the daily hiking over 7 days on unpaved trails with your backpack on, camping out in a mountain area with changing weather conditions and no phone connection to update your status on social media 😉
Hiking in Abisko National Park
Abisko national park is Sweden's northernmost national park. A beautiful green mountain valley surrounded by the Swedish Alps. River Abiskojåkka runs through a dense mountain birch forest and enters one of Sweden's biggest lakes, the Torneträsk. With our tour we partly follow the well-known Kungsleden, sleep in tents and typical Swedish mountain huts, learn about wildlife, plants and enjoy the majestic views over the mountain valleys around us.
Dates:
23.07 – 30.07
30.07 – 06.08
Have you not found the program you are looking for ? No problem !
If its a daytrip or an extended trip over several days, with our extensive practical knowledge and wide range of outdoor equipment, we see it as a pleasure to create a programme just for you !
From berry and mushroom picking, hiking the swedish forests and mountains, paddling rivers and lakes in kajaks, canoes or packrafts, camping with tarps, modern expedition tents or traditionalcotton tents, let us know what you are after and we tailor a program just for you.